INFORMATION SHARING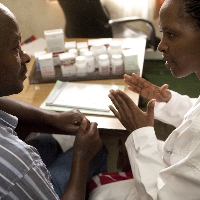 Our first partnership project consisted of raising the awareness of health and wellness with various educational institutions and other agencies. As a partner of the Million Hearts Stroke Belt Project with the Morehouse School of Medicine, Inc., the Foundation provided health outreach prevention education (H.O.P.E.) and "Turn the Beat Around" health education outreach services at local churches in Birmingham, Selma, and Montgomery, Alabama.
The second partnership was with HeiTech Services, Inc. Project with funding from the Office of Minority Health and Resources which was a capacity building project grant to enhance and expand the support of the Million Hearts Stroke Belt Project focusing on the Alabama State Missionary Baptist Convention's four wings (regions), 31 district associations; along with special city zones of Birmingham, Huntsville, Mobile, Montgomery, and Selma, Alabama.
Our expanded focus is to continue to position ourselves while being sought out by other groups, agencies, and institutions who are supporters in many of the areas in which the foundation currently works as we strive to eliminate the challenges and engage in opportunities that will have the greatest impact for individuals over time. To work together towards a common goal to create and maintain strong partnerships with government and non-government funded programs. One of the many goals for the National USA Foundation, Inc. is to assist individuals with their needs and wants in developing and leading a healthy lifestyle while educating their minds on the various initiatives in the communities, resources of the state and within the nation.
Our third collaboration partnership consists of the University of Minnesota, The University of Alabama at Birmingham, National USA Foundation, Inc., 100 Black Men, and Minnesota Vikings.  The Center for Healthy African American Men through Partnerships (CHAAMPS), a consortium of regional academic centers and community organizations, is a first-ever collaborative center to develop, implement and evaluate interventions to improve African American men's health through research, outreach and training.  NUFI is participating in three of the existing research projects with other potential forthcoming projects.
Our core values are faithfulness, advocacy, integrity, teaching, and health. (FAITH)